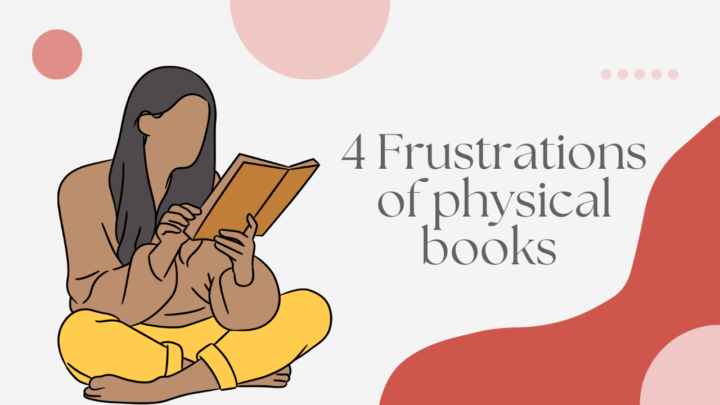 I recently bumped into one of my favourite books (physical) while decluttering some stuff. I thought to try and read it and see what I am missing out on. Since going paperless, I've been told a million times that physical books are better. So, I thought to try it out. But, after reading just two sentences, I knew I had made the right decision when I went paperless. I tossed the book away and thought to share four frustrations of reading and taking notes from physical books. This experience juggled my memory.
Buying
Whether you walk into a bookshop, join a local library or buy a hardcover copy of a novel, purchasing or renting a physical book takes too much effort. That is, compared to buying the Kindle edition online, of course. In just a few seconds, in the comfort of your home, you can have any book you want at the click of a button. Gone are the days when a book is out of stock, or the bookshop just doesn't have the book you're looking for. I definitely don't miss those days!
Storage
Most people love feeling the pages of the books they're reading, turning the pages, and all the other things I am forgetting that seem important. I can't help but think about the space the books take on my desk, bookshelf and in the house! The minimalist in me was born to be paperless. Imagine the mess that comes with hundreds of books. My iPad Kindle app has over ten books, and it doesn't occupy more space the more books I buy. That, for me, is freedom. I always have little tidying up to do. I am a happy human!
Reading experience
I love taking notes whenever I read anything. If it's a novel, I can look up new words to expand my vocabulary. You simply can't interact with physical books the way you do with digital ones! In the twenty seconds I read the physical book, I realised that I couldn't long-press to learn the meaning of a new word. I couldn't note the thoughts that came to me while reading different paragraphs. Then what's the point of reading in the first place? I couldn't even grab a quotation to share with a friend for further analysis or discussion. That was the moment I knew physical books were never my thing.
Availability
Since I went paperless, I don't recall ever forgetting important notes or books. That's not to say I have never forgotten my devices. That would be a lie. I do forget them, and sometimes I just can't bring them along. When I need to check something, I can access my ebooks on any device I have on me at that time. It's usually my phone, and I love how Kindle syncs across my devices to save me from boredom due to unexpected delays!
It's safe to say I don't miss physical books or any experience that comes with them. I love ebooks, especially PDF textbooks, that I can annotate without feeling guilty (like I did with physical textbooks). Perhaps I am missing something, but whatever it is – I am happy without it!