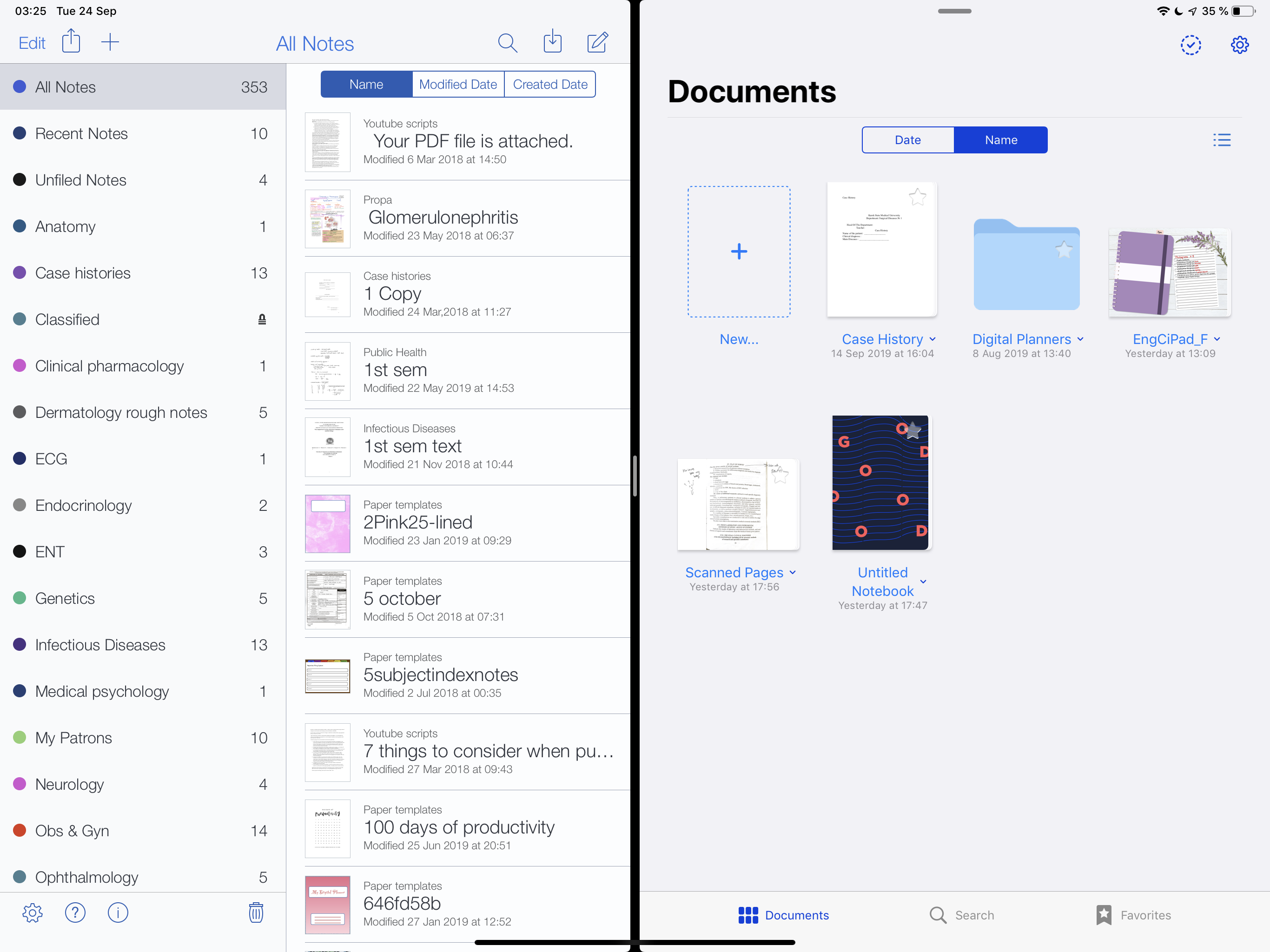 Feature
Notability
GoodNotes 5
Price
$8.99 on iPadOS/iOS
$4.99 macOS
In-app purchases
$7.99 on iPadOS/iOS
$7.99 on macOS
Developer
Ginger Labs
Time Base Technology Limited
Type of app
Handwriting note taking
Handwriting note taking,
PDF reader
Supported OS
iPadOS, iOS, macOS
iPadOS, iOS, macOS
Cloud services
supported
iCloud, Dropbox,
Google Drive, Box,
OneDrive, WebDAV
iCloud, Dropbox, Google Drive, OneDrive
Auto backup
✔️
✔️
Syncing across
devices
✔️
✔️
Exporting options
★★★★
★★★★★
File organisation
2-level folders
Multi-level folders
iPadOS support
• False Dark mode
• Gestures
• False Dark mode
• Gestures
• Multiple instances
Handwriting
recognition
• Search through handwriting
• Convert handwriting to text
Now separate in-app, one-time purchase for new users
• Search through handwriting
• Convert handwriting to text
Languages supported
for OCR
15
17
Universal search
★★★★
★★★★★
Page templates
• Plain, squared, lined, dotted
• 4 spacing options
• 15 colours
• A4 size
• Plain, ruled, squared, dotted, Cornell, Accounting, Monthly planner, todos, music templates
• Portrait and landscape templates
• 3 page colours
• Multiple page selection
• Easily add and save your own custom paper templates
• Page rotation supported
• Many page sizes (A7-A3, GoodNotes Standard, Letter and Tabloid)
• Covers for your notebooks, and you can add your own
Page customisation
★★
★★★★★
Password protection
Folders
✘
Scrolling
Vertical
Horizontal
• Vertical
• Horizontal
Pens
• Fountain and Ballpoint
• 12 fixed sizes
• Ballpoint, Fountain & Brush pens
• 0.1mm-2.0mm pen sizes (save three templates at a time)
Highlighter
Behind ink
Behind ink
Eraser
★★★★★
★★★★★
Handwriting
accuracy
★★★★★
★★★★★
Handwriting
experience
★★★★★
★★★★★
Shapes tool
★★★★★
★★★★
Insertions
Photos, images, scanned documents, GIFs, Web Clips, Sticky notes
Photos, images, scanned documents, PDF documents
Zoom tool
✔️
✔
Integrated browser
✔️
✘
Hyperlink support
★★★
★★★★★
PDF annotation
★★★
★★★★★
Unique features
Audio recording synced with notes
• Whiteboard feature
• Laser pointer
• Hyperlinks deactivation
• Selective lasso tool
• Both horizontal & vertical scrolling
Worst features
• No page rotation
• No multiple page
selection
• One paper size support
• No auto backup
• No password protection
• Text tool needs improvements
Presentation mode
✔️
✔️
Price
Notability is more expensive, by a few dollars. It won't break the bank. Both apps are:
a one-time purchase
available (for a separate purchase) on Mac
don't have a Windows version. It's a shame really. That's a market with untapped potential.
Note: prices may vary depending on your Appstore's country (due to taxes).
Update: Notability has added an in-app purchase for Handwriting Recognition for new users
App size
GoodNotes is slightly larger and creates bigger files than Notability. My Notability has more documents (351 as of this article) than GoodNotes (20). It is taking up almost the same space as GoodNotes on my iPad.
Organisation
GoodNotes remains the better app for organising your notes. The multiple-level organisation system allows for folders within folders. It is superior to that in Notability.
In GoodNotes, you can bookmark favourites (for easier access). You can filter these to see your documents, pages or folders only; instead of going through all your favourites.
Notability has a two-level folder system (dividers and subjects). A divider contains multiple subject folders. The subject folder then contains individual notes. That is all the organisation you get in Notability.
Security
If you've got any secrets you wish to keep from the world, you'd best go for Notability. It has password protection for your subjects, which supports Face/Touch ID. GoodNotes doesn't password-protect anything.
App customisation
GoodNotes has more app customisation options. You can:
change the position of your tool bar
choose between vertical/horizontal scrolling (you can now do this in Notability too)
decide to open new documents in a new tab or replace a currently opened one
These add some flavour to the user experience you get in GoodNotes. Nothing stands out in Notability's settings.
App presentation
I still haven't purchased the themes in Notability. I simply can't decide which theme I like because they are all beautiful. Besides, if I had so many themes to choose from, I would be pressured to try to use them all. The minimalist in me simply won't let me purchase them themes! GoodNotes doesn't have any themes. Notability's presentation is much better. Presentation matters!
Universal search
Both apps support universal search. You can search all your documents (even your handwritten notes) on the homepage.
GoodNotes goes an extra mile. It organises your searched documents into titles, PDFs, outlines, typed notes and written notes. It makes finding what you need much easier in GoodNotes.
NB: Notability now has an in-app purchase for handwriting recognition (for new users).
Creating new notes
Notability creates new notebooks with a single tap. Each new note has a date and time of creation. GoodNotes has a similar quick note option and a more sophisticated way to create notebooks. It lets you customise the cover and page template for your new notebooks. You can name your notebook before creating it.
Exporting options
In Notability, you can add a margin around your PDF when exporting it. I like the extra space. It gives room for anyone wanting to annotate their notes later.
GoodNotes 5 creates hyperlinks.
You can export images in GoodNotes versus the Rich Text Format (RTF) option you get in Notability. I have never exported any of my notes in RTF format because most of my notes are handwritten.
Typing in the app
The text tool in Notability is superior. You can save three favourite text templates. I have set mine for headings, paragraphs and emphasis. When typing lecture notes, there is no time to customise the text. A tap on these favourite text templates changes the text immediately. In Notability, you can create:
interactive checklists
unnumbered lists
numbered lists
Text customisation in GoodNotes definitely needs some improvements. When typing your text, it's put in a text box while your are typing. You can change:
colour background
add borders around your text
add some padding
All these can be achieved done in Notability too.
Handwriting experience 
It depends on personal preference; I prefer Notability. I like the fixed pen sizes, unlike the millimetre sizes in GoodNotes. I wish I could save more templates in GoodNotes, but the app only lets you save three template colours and three pen sizes. GoodNotes' inking experience has improved dramatically in iPadOS.
Highlighter
A hundred years later, Notability finally fixed their highlighter! Perhaps updating the code for a highlighter is harder than we think. They eventually moved the highlighter to the back of the ink. GoodNotes still has a better highlighter, though. 
Eraser
Notability has worked on their eraser since the last time I compared these apps. You can now erase per pixel and stroke. You can even choose the size of your eraser too.
GoodNotes still has better customisation. You can selectively erase the highlighter only (Notability added this feature recently). The app has a setting to auto-deselect the eraser when you finish using it. After erasing something, the app will automatically switch back to the tool you were using before.
Lasso tool
Notability updated its lasso tool too. You now get two types of lasso tools in the app; a freehand and a rectangular one. The freehand lasso tool selects basic stuff. You can then duplicate the selected content.
In GoodNotes, you can take a screenshot of the selection. You can also resize your content. For that, in Notability, you use the rectangular lasso tool. It is difficult to select items that are close together using this tool.
 In GoodNotes, you can rotate your selection. In Notability, you use the two-finger gestures to turn your selection. The lasso tool in GoodNotes can selectively pick your handwriting, text or just your images. You can also choose to pick up all of them. In Notability, by default, you can only pick up your handwritten sections.
Adding things to your notes
Notability allows you to add more things to your notes than GoodNotes. In addition to what they both offer, you can also add GIFs, Sticky notes and web clips in Notability.
In iPadOS, both apps support scanning documents into your notes. Both can search through your scanned documents with OCR. 
Shapes tool
In Notability, you can draw any shape you want without a dedicated shapes tool!. You can autofill your shapes. Unlike in GoodNotes, your shape's border can have a different colour from its fill.
Notability still needs to add an option to adjust the opacity of your fills though. For now, if you want a transparent shape, you have to draw it with the highlighter. 
You can adjust the thickness of your shape's border and its form after you've drawn it—all things you can't do in GoodNotes.
To select your shape in Notability, for any modifications, simply tap on it with a finger. In GoodNotes you use the lasso tool.
Photos
Both apps support PNG photos. GoodNotes lets you crop your images as a rectangle and with freehand. I doubt it matters if your pictures don't have a background. 
To select images in Notability, simply tap on the picture. In GoodNotes 5, long press on the picture or use the lasso tool. If you have the image tool selected in the toolbar, you can just tap on the image as you do in Notability. 
You can add captions and wrap text around them in Notability. Options you don't have in GoodNotes.
Page customisation
At this point in my life, I am just tired of Notability's non-existent page customisations! I am sick and tired of it!
What is ridiculous about Notability?
No page rotation
No multiple page selection
Supports only A4 paper size (in portrait mode, no landscape orientation)
Supports one page template per notebook
It is difficult to add custom page templates
GoodNotes has it all. You can easily select multiple pages and rotate them. You can have different page templates for your notebooks. I am tired of manually turning my iPad to write in landscape mode when using Notability. 
GoodNotes supports many paper sizes (A7-A3, letter size, GoodNotes Standard and tabloid).
Scrolling
Notability offers vertical scrolling. It has continuous pages separated by a long and thin horizontal line. Your handwriting can overlap into the next page; giving you a 'continuous' canvas to write on. 
Update: It now has horizontal scrolling.
GoodNotes supports vertical and horizontal scrolling. The pages in GoodNotes are not continuous like the ones in Notability. They have a small gap indicating where a page ends, and a new one starts. Your handwriting can't overlap.
Multitasking
Notability has an in-app split view. You can open two notes side by side with Note Switcher tool in the app. Of the two, only one tab is active at a time. The active window is where your Apple Pencil works. To use a different one, tap it first before writing. You can't open the same note twice, though. In-app split view was awesome, a year ago. 
GoodNotes supports multiple instances. It can open in two windows side by side; giving you the ability to open the same note twice (both windows active)!
Each instance is a fully functional app. You can exit your currently opened workspace (on one of the instances), go to the homepage and open a different notebook. This is not possible in Notability. Notability's note switcher only shows the ten most recently opened notebooks.
You can even open overlaying windows for GoodNotes. The multiple tabs feature is more useful in the app now. More documents open at once in GoodNotes than in Notability.
PDF annotation
GoodNotes is a better PDF annotating app. It recognises outlines in PDFs. Hyperlinks are deactivated when writing notes in GoodNotes. In Notability, you will consistently activate your hyperlinks unintentionally. At some point, it just becomes annoying.
Special features
GoodNotes has a two-finger selecting gesture for quickly selecting and deselecting multiple documents on the homepage.
The audio recording tool remains Notability's trump card. It is an excellent feature for note-taking. The audio files a very small, you won't even notice they are there.
GoodNotes can create outlines, to avoid navigating through every page in your notebook. You can then export them with hyperlinks.
Both have powerful tools for presentations. They added a laser pointer to the app. You can also decide what your audience sees when you're making your presentations by hiding part/all your app's user interface.
At this point, it's probably safe to say Notability is half the app GoodNotes is. I love Notability, I have been faithful to the app because it is a very stable application, and it works. But we can't deny the facts staring us in the face; other note-taking apps are catching on fast. We can't wait around for years to get one essential feature added to an app when there are so many options on the market. 
Notability must fix its page customisation features otherwise GoodNotes 5 will take over the market if it hasn't already. 
Of course GoodNotes 5 still has a major issue of their own to fix: auto backup. It has been missing in the app since it got released in January this year. We are still waiting for it.
GoodNotes 5 added auto backup, finally!